If anyone can convince you to follow your dreams, it's Brian King Joseph.
He taught himself to play the violin when he was just a toddler and his skills are now so refined, he's performed in front of political heavyweights, appeared on reality shows and commercials, and even gotten onstage with such musicians as George Clinton and Machine Gun Kelly.
Facebook
But even with all those accolades, it was still his dream to perform on "America's Got Talent." That dream took on a real sense of urgency in 2015, when Brian was diagnosed with a nerve disorder that will eventually rob him of all sensation in his body.
Despite losing feeling in his hands and feel, He certainly wasn't going to miss his shot.
YouTube
Brian gave it his all during an energetic cover of "Lean On," by DJ Snake and Major Lazer. And it's a definite crowd pleaser! You literally can't take your eyes off of him as he bounces across the stage with his electronic violin, his movements punctuated with a broad grin that spreads from cheek to cheek.
The crowd was on their feet.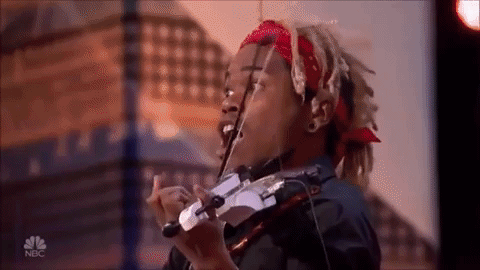 Giphy
In fact, he's infused everyone with so much energy that by the time he's done, Heidi Klum can't hold back anymore, and she runs onstage to give him a huge bear hug!
YouTube
"That amount of talent and that much charisma, and you lit this whole entire stage up," Mel B exclaimed at the end of his audition. "You are amazing, amazing, amazing!"
The rest of the panel wholeheartedly agreed, including Simon: "You have an incredible energy, unbelievable, obviously, determination. What a fantastic attitude you've got to life, you know. Your smile when you were performing, it's very infectious."
Facebook
But the question remains: Did he make it to the next round?
Click on the video below to find out, and share to spread this talented young man's optimistic outlook on life.